Be Part of Something Good, Work for Goodwill.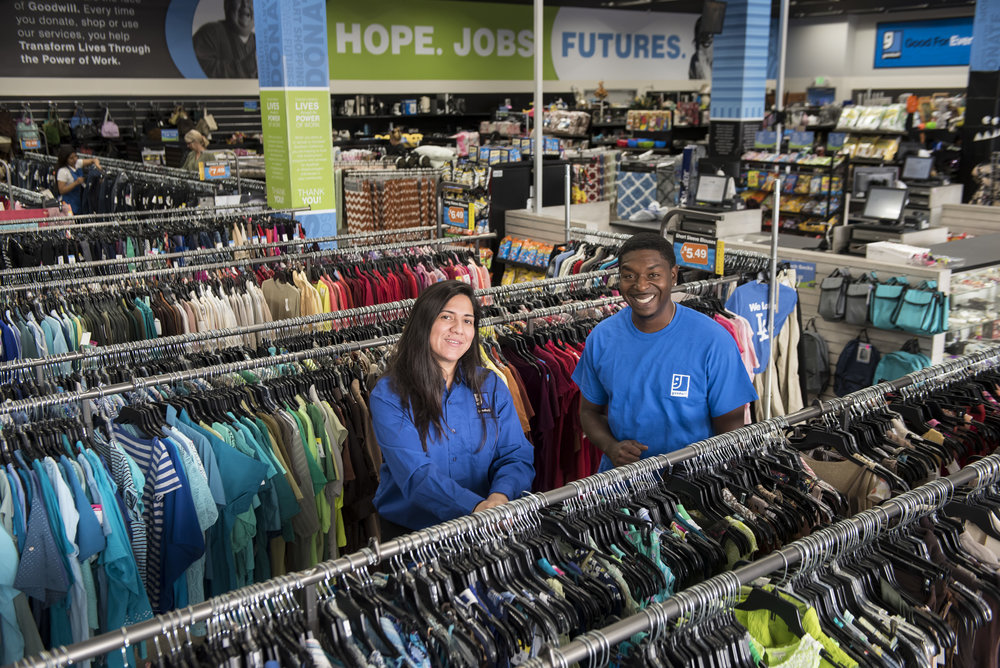 Working Together to Make a Difference.
The revenue generated from our retail stores, e-commerce and recycling programs provides sustainable funding to allow Goodwill to not only offer affordable clothing, home goods but also offer training, job opportunities and educational resources to people in our community. We are committed to helping individuals achieve their personal and/or career goals while giving our employees the tools they need to be successful.
Build Your Future at Goodwill.
Through partnerships, youth and client service programs, job creation, tax base expansion and economic reinvestment from our operations, Goodwill enriches our local community.
Every year Goodwill diverts millions of pounds of clothing and other textiles, e-waste, shoes, books, metal and cardboard from area landfills by reselling and recycling these items. We provide our community with an easy way to reduce, reuse and recycle and give new life to their unwanted goods.
More than 50% of our employees have a barrier to employment such as a disability, criminal history or lack a high school diploma. Helping to transform the lives of those we employ and serve is more than a mission – it is an opportunity to make a difference in our community.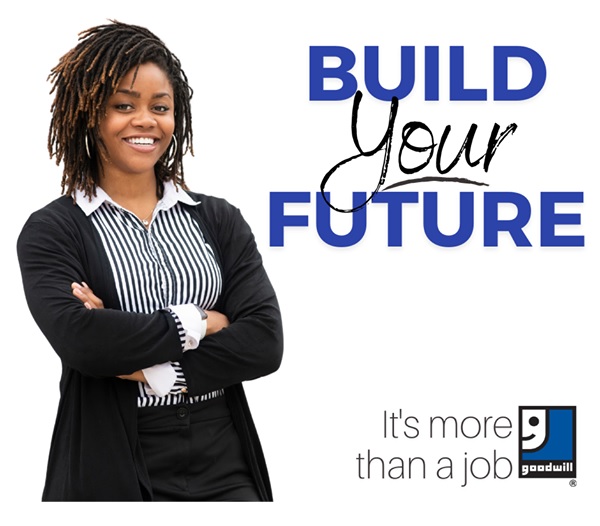 It takes many hands to fulfill our mission and every employee makes a difference by contributing their unique talents and skills. That's why we strive to create an atmosphere of mutual trust and respect where individuals can share ideas, solve problems and get the job done together.
Diversity and inclusion are part of the fabric of Goodwill. It all starts with our mission: Goodwill empowers and prepares people for independence through training, personal growth and work. Helping people with disabilities and other employment barriers find meaningful employment and creating a diverse, inclusive atmosphere for our employees' flows from our mission.
We bring together people of different backgrounds, life experiences and cultures to inspire creativity and innovation. We look at our differences as our strength. A diverse, inclusive team makes better decisions and sees opportunities instead of problems.
We are an equal opportunity employer, committed to supporting an inclusive environment. We understand that individual differences enrich our organization, strengthen our services and help us to attract and retain top talent.
All employment actions and decisions are made free from discrimination without regard to race, color, sex, (including pregnancy) age, national origin, sexual orientation, disability, religion, gender identity or any another characteristic protected by law.
All qualified candidates will receive consideration for employment and will not be discriminated against.
Full time employees are eligible for a comprehensive benefits package.
Competitive pay.
Comprehensive medical, dental and vision plans.
401k retirement plan with employer match.
Health and wellness resources.
Paid time off (PTO).
Paid holidays.
Paid bi-weekly.
Basic and voluntary life insurance plans.
Employee assistance program (EAP).
Generous employee discount.
Employer paid flu shot.