Walgreens REDI Program Provider.
REDI stands for Retail Employees with Disabilities Initiative. Through REDI, Walgreens and Goodwill provide people with disabilities with an opportunity to learn retail and customer service skills and potentially qualify for employment at Walgreens and other retailers with similar training.
REDI is a 3-4 week, in-store retail and customer service training program. The program is taught by a Walgreens-trained Goodwill Job Coach.
REDI training covers such Customer Service Associate (CSA) competencies as how to unload trucks, stock shelves, run a cash register, etc.
REDI program graduates can apply for positions with Walgreens. Program participation provides an opportunity, not a job guarantee.
Those who graduate REDI and attain an evaluation score of 3.0 or higher: Earn a "recommended for hire" designation, can bypass the standard Hourly Selector assessment if applying for CSA roles at Walgreens, and will be able to apply for CSA positions nationwide.
Meet Jessica!
Jessica and her twin brother were born three months premature. She developed cerebral palsy and epilepsy as a result, but this has by no means stopped her! Goodwill's Employment Services program helped Jessica obtain her first job. She is an extremely valued employee at Walgreens having worked there for three years. Jessica says working helped her gain more independence and confidence. She enjoys having coworkers and being part of a team. Way to go Jessica!
Ecommerce Lister Training – Goodwill.
Goodwill assists individuals with the training and experience in a paid internship to learn all aspects of the Ecommerce Lister positions and potentially quality for employment listing items for sale at online auction companies.
Select items to list on the e-commerce site.
Photograph items for sale using different angles for review.
Accurately describe the item for the listing.
Calculate the package size and shipping weight.
List the item on the appropriate web site.
Janitorial Training – Goodwill.
Goodwill assists individuals with the training and experience through a paid internship to learn all aspects of a janitorial position and potentially qualify for employment in the janitorial field.
Learn proper cleaning techniques.
Mopping, sweeping, emptying trash, washing windows.
Proper use of chemicals for all surfaces.
Clean restrooms, kitchens, offices and etc.
Inventory and order supplies.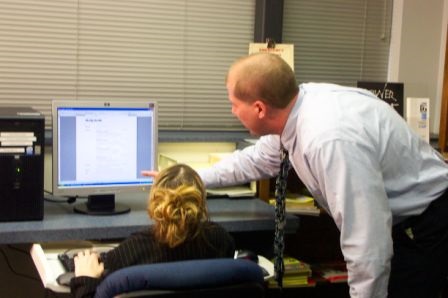 Goodwill Retail Training – National Retail Federation.
Goodwill's Retail Training Program is a five week course that follows the National Retail Federation's program. Through the use of classroom activities and a paid internship, students will learn various skills including:
Demonstrating accurate cash handling.
Providing excellent customer service.
Selling and promote products.
Protecting company assets.
Monitoring inventory.
Dressing professionally.
Acing an interview.
Finding and keeping a job.
Skills to Pay the Bills – U.S. Department of Labor Program ODEP.
"Skills to Pay the Bills: Mastering Soft Skills for Workplace Success," is a curriculum developed by ODEP focused on teaching "soft" or workforce readiness skills to youth, including youth with disabilities. The curriculum can be tailored for all ages and individuals desiring to develop professionals as an introduction to workplace interpersonal and professional skills.
The basic structure of the program is comprised of modular, hands-on, engaging activities that focus on key skill areas:
Communication.
Enthusiasm and attitude.
Teamwork.
Networking.
Problem solving and critical thinking.
Professionalism.
Communication
Enthusiasm and attitude
Teamwork
Networking
Problem solving and critical thinking
Professionalism
Reach out to learn more about our programs and services.